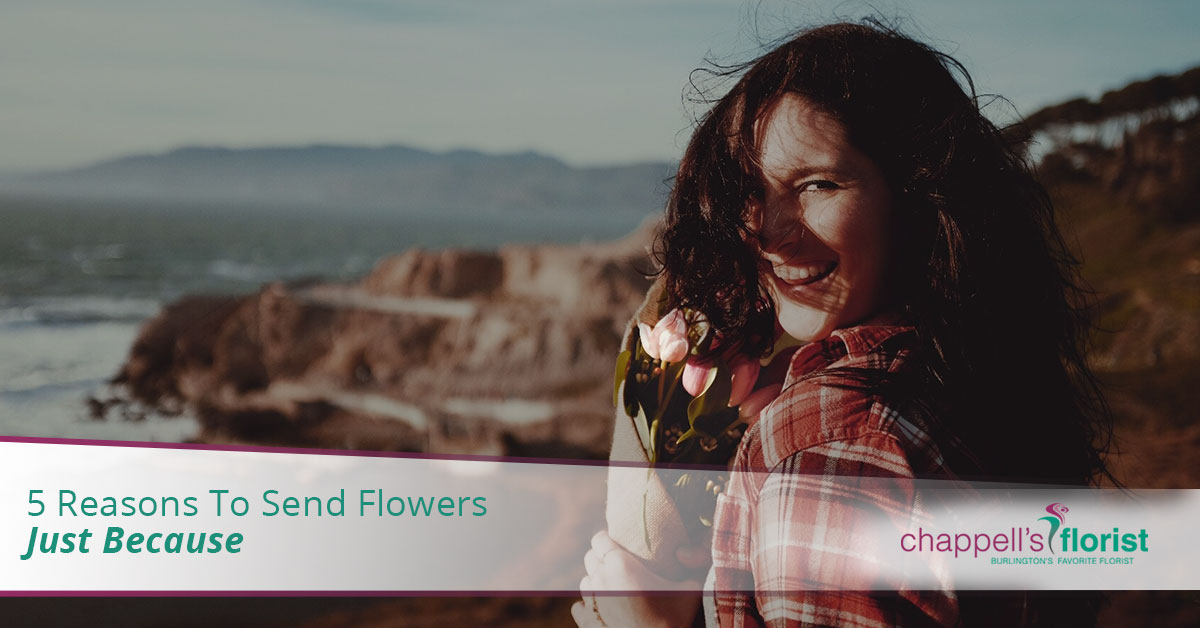 Flowers are always a great gift that don't require a special occasion. They look beautiful, they smell amazing, and they are guaranteed to put a smile on the face of whomever you're sending them to. If you have a growing desire to have a flower arrangement sent to a special someone or you're trying to plant the seed in someone's ear that you want them to send you flowers, here are five "just because" reasons to schedule a flower delivery with Chappell's Florist in Colchester today.
Cheer Someone Up
Whether it's sympathy flowers, get well flowers, or flowers for someone who is already having an awesome day, sending a beautiful floral arrangement is a great way to put a smile on someone's face or cheer them up. Imagine how much better they'll feel knowing that someone noticed they were down in the dumps or that they've been sick and wanted to make them feel better? Or if someone is having a great day and realizes that you just want to help them celebrate their accomplishments? Having flowers delivered is a thoughtful notion to cheer someone up or boost their already good mood.
Let Someone Know You're Thinking Of Them
Nothing says "I was thinking about you" like flowers. Perhaps you live far away from your mom and you want her to know that you miss her, or you and your partner haven't been able to connect because of your busy work schedules and you want them to know you're thinking about them — a quick call to their local florist is a simple but impactful way to show them you care enough to take the time to send flowers to them. And this "just because" reason is a great way to earn brownie points with whomever you're sending them to because it's such a nice surprise.
A Random Act Of Kindness
People work hard and have a lot of different things going on in their lives. Sometimes we get so caught up in our own world that it's nice every once in a while to stop and smell the roses or send the roses to other people to smell. Randomly sending someone flowers is a great way to boost morale because it reminds people that they're valued and worthwhile. It's easy enough to say, but sometimes it means more to show with a bouquet of fresh flowers. Whether it's a co-worker staying late to support their family, a boss who works weekends to help the company meet its goals, a friend who takes care of everyone else without ever expecting anything in return, or a family member always looking out for others — it's nice to recognize the hard work that people do. What easier way is there than sending them a beautiful flower arrangement?

Apologize
No one is perfect; we all make mistakes. Sometimes saying sorry just doesn't cut it. Words are nice, but sometimes you need an action to pull yourself out of the hole you dug and truly show that you're sorry. It's enough of a public display that it shows your sense of humility, without looking like you're groveling. Whether you forgot a special occasion, got into a heated argument, or had to cancel plans last-minute — nothing quite measures up to apologizing with a beautiful flower arrangement.
Literally Just Because
It's great to send flowers to cheer someone up, let someone know you're thinking of them, to show a random act of kindness, or to apologize; but sometimes it's an unusual or more personal "just because" moment that makes for the most special occasion to send flowers. Send flowers because it's Friday, send flowers because it's the first day of summer, or send flowers to celebrate the amazing homemade meal they cooked the other night! There honestly doesn't have to be a reason to show someone you appreciate them with a gorgeous bouquet.
If you're ready to send flowers just because or you have a special occasion coming up that you want to send someone flowers for, give us a call at Chappell's Florist in Colchester. We offer same-day delivery flowers in beautiful floral arrangements that anyone will love.