Long before texting, instant messaging, email, or even phone calls, people used flowers to communicate with their friends and loved ones. The language of flowers was popular a few hundred years ago, and while we have changed the way we communicate since then, flowers are a still meaningful way to connect with those around you.
One method of communication using flowers is sending a friend or family member birthday flowers! Did you know that each birth month flower has a unique meaning that is sure to make the recipient feel extra special? Today, we are going to talk about the June birth flowers, which are among the most fragrant of all, and the significance of them. If you have a loved one with a birthday coming up in June, then be sure to contact a florist at Chappells Florist in Burlington to send a bouquet of flowers.
The Rose
History of the Rose
There is a reason that roses have inspired poets, painters, and songwriters for centuries! They have been used in cultivation for much longer than you might have thought. According to fossil evidence, this perennial is 35 million years old! It is a widely cultivated genus, as Rosa has around 150 species grown throughout the world. Its first cultivation roots back in China, Japan, and the rest of Central Asia about 5,000 years ago.
Roses tell many exciting stories about the flower's history. In Greek mythology, roses are believed to have been created by the Goddess of Love, Aphrodite, from her tears and Adonis' blood. In ancient times, the queen of Egypt, Cleopatra, wanted to be associated with the smell of roses, so she used the flowers in public appearances and once filled her bed with rose petals on her wedding night.
Meaning of the Rose
There are roses for every imaginable taste, from climbing roses and shrubs to long-stemmed roses that make for great additions to bouquets. If you are thinking about grocery store roses, then think again. A well-grown rose that lives out in the beauty, freedom, and freshness of nature or a greenhouse is going to be bright with color and oh-so-fragrant! Symbolically, the rose has more than one meaning:
A pink rose means perfect happiness, admiration, appreciation, and gratitude
A red rose is a famous expression of love, passion, and romance
A white rose signifies innocence, purity, humility, and new beginnings
A yellow rose symbolizes joy and friendship, although it may also mean jealousy
A bouquet of roses signifies sincere gratitude
A single rose amplifies the meaning of the color (for example, a single red rose means "I REALLY love you"
Buying Tips for the Rose
If you want to send roses as a gift, then it is best to choose the freshest roses. Here's how you can do that:
Avoid buying roses that have been at the flower shop for too long. Pick ones with crisp and firm petals because this is a good indication of freshness.
Do not pick roses in full bloom. As much as possible, select roses with buds that have not been opened yet and mix them with opened buds. Doing this ensures different bloom phases.
Pick roses with strong, long stems and green, healthy leaves. These roses are long-lasting.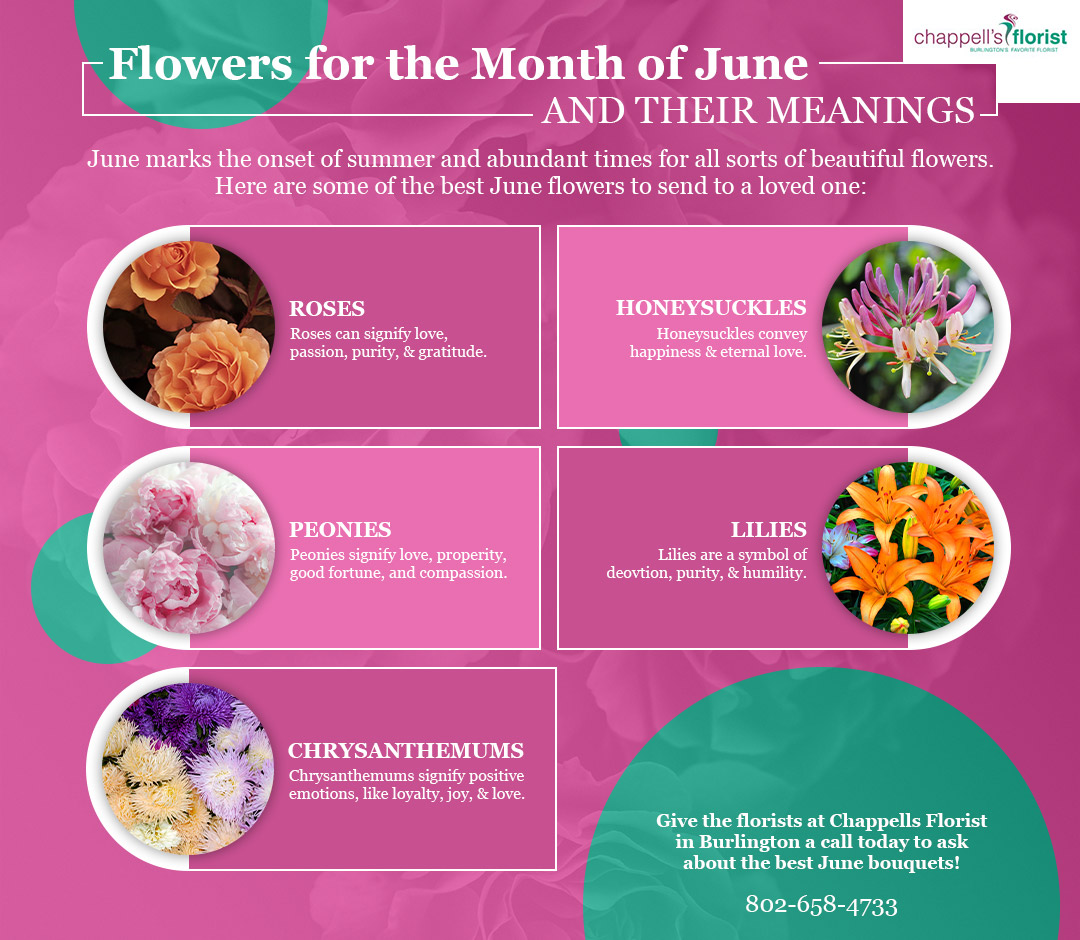 The Honeysuckle
The other June flower is honeysuckle, which is a strong symbol for the everlasting bonds of love. While they are not as popular as roses, honeysuckle flowers and vines also are quite the bouquets and floral arrangements, as they make great accent flowers and give off a sweet and beautiful smell. These flowers have different colors, which vary from white to yellow, pink, and red. They are very fragrant and attract pollinators like butterflies and hummingbirds.
Meaning of the Honeysuckle
This June birth flower symbolizes happiness and eternal love. It also represents sweetness, which roots back in the flower's sweet nectar.
Other Popular In-Season June Flowers
While roses and honeysuckles are the official birth flowers for June, they are not the only options in June! There are lots of beautiful flowers that also bloom in June, so you have plenty of choices.
Peonies
Peonies are sun-loving perennials that gained popularity because of their attractive blooms. Their flowers are large, fragrant, and come in a wide range of colors and types.
Lilies
Lilies are popular for bouquets and floral arrangements and are recognized as the 30th Anniversary flower. They bloom just in time for summer and hold several meanings, like devotion, purity, and humility, in addition to motherhood, rebirth, and good luck.
Chrysanthemums
Chrysanthemums are one of the best gifting flowers since they suit a variety of occasions. Known as the birth flower for November, these blooms signify a lot of positive emotions and are a symbol of happiness, loyalty, cheerfulness, joy, and love.
Give Our Florists in Burlington a Call!
If you are looking for a flower that best suits your friend or family member's style and taste, then give our florist in Burlington a call! Our florists are extremely helpful in helping you choose a bouquet that best suits the occasion and the recipient of the flowers. Give us a call and ask about the options we have available and give the gift of flowers.