Wedding planning is an exciting task for every bride — selecting a venue, putting together playlists, choosing a dress, planning your bridal party, decorations, food options… there is a lot to take into consideration. And, depending on your culture, religion, or traditions, your wedding may have other unique considerations to plan for — including your flowers. While flowers may appear as a staple to all weddings as impressive bouquets, backdrops, and centerpieces, they have historical significance and have been a part of wedding ceremonies for ages.
In today's post from Chappell's Florist in South Burlington, we will be going over some of the most popular flowers used in weddings as well as their meanings in order to help you select the ideal floral arrangements for your special day. If you are looking for a reliable florist to provide beautiful, fresh flowers for your wedding, look no further than Chappell's Florist. Give us a call or stop by today!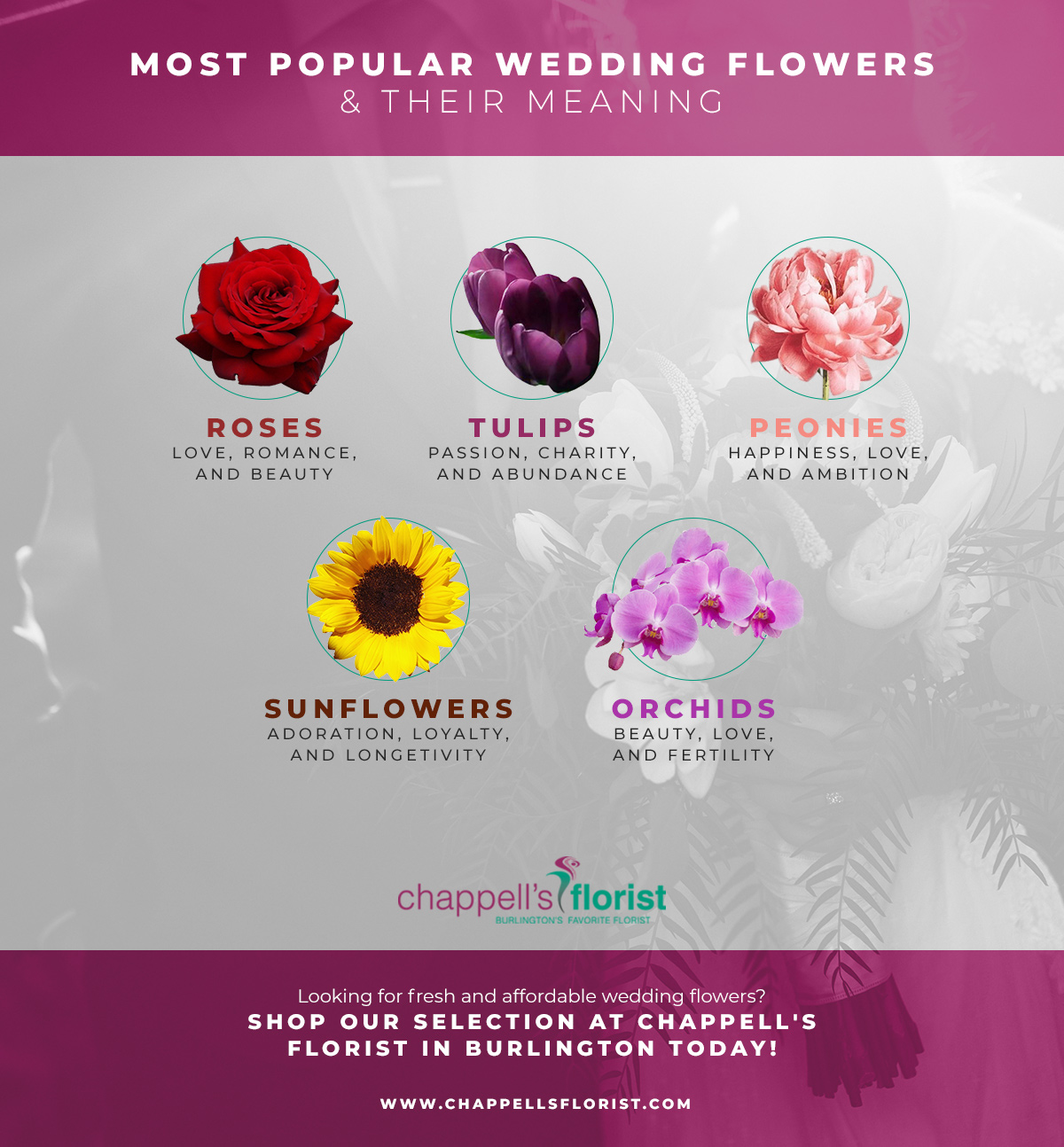 Tulips
Tulips are known for their Danish influence, and their sturdiness, simplicity, and unique shape make them perfect for spring weddings. Depending on the color, the meaning reflects passion, charity, abundance, and enduring love.
Orchids
Orchids are a symbol of beauty, love, and fertility, and come in a variety of sizes and colors. So, no matter what your definition of "beauty" is, you are likely to find a floral arrangement that suits you.
Peonies
Peonies symbolize love, happiness, and ambition, which is a sweet sentiment for your special day. These flowers are in season during the late spring, making them the perfect for the spring and summer wedding season.
Baby's Breath
Baby's breath has come back into style as of late and symbolizes innocence. This dainty flower is fairly inexpensive and in season year-round!
Roses
It is truly no wonder why roses rank as the most popular and beloved wedding flowers — they are a symbol of love, romance, and beauty, and are shockingly affordable. They are also available year-round, making them perfect for a wedding in any season. Bright red makes an excellent statement flower for a winter wedding, and white roses are an elegant and classy way to spruce up a spring or summer wedding. Regardless of what color you choose, you can never go wrong with choosing roses as your wedding flowers!
Sunflowers
Sunflowers mean adoration and loyalty. The reason for this is because the head of the sunflower is known to follow along with the sun throughout the day as it moves across the sky. Both the bright colors and the symbolism make them the perfect flower for a rustic summertime wedding.
Zinnias
Zinnias are an affordable flower option, but definitely do not lack in meaning or beauty. They symbolize lasting affection, daily remembrance, and "thoughts of friends," making them the perfect bouquets for bridesmaids, corsages for groomsmen, and centerpieces at tables for your loved ones.
Daffodils
These bright and springy flowers represent happiness and kind regards. If you are planning your wedding in the spring, keep these beautiful flowers on your radar as they are both inexpensive and in-season!
Magnolias
Perfect for outdoor weddings, magnolias mean "love of nature." While most magnolia trees grow in the south, you can get these luxurious and beautiful flowers almost anywhere during the spring and summer months.
Lilies
Lilies represent truth, majesty, and honor, making them fit for royalty. This flower boasts a lovely fragrance and is perfect for summer weddings when they are fresh and in-season.
Calla Lilies
This lightly fragrant, tropical flower originated in Africa and represents "magnificent beauty." Calla lilies are perfect for spring and summer weddings, which is when they are in season.
Gardenias
Gardenias represent purity and joy, which are two things that are strongly associated with weddings. These flowers are gorgeous, dainty, and have an incredible aroma that will add an intoxifying essence to your wedding day.
Lilacs
The meaning behind lilacs is "love's first emotions," making them the perfect, romantic flower choice for weddings. They exude a beautiful purple to pink color and are perfect for adding a nice pop of color to your special day in a dainty, elegant way.
Dahlias
The elegant dahlia is a symbol of a commitment and a bond that lasts forever, making them the perfect flower for weddings. Dahlias are bold and bushy yet elegant and classic. These flowers are best used during summer and early fall weddings when they are in season.'
Carnations
These colorful flowers are often underrated and misunderstood. Each color symbolizes something different — with pink symbolizing boldness, red representing love, and white indicating talent. These flowers are also inexpensive and fresh year-round, making them perfect for weddings of any season.
Browse Our Selection of Flowers at Chappell's Florist In South Burlington
If you have a wedding on the horizon, Chappell's Florist in South Burlington would be more than happy to provide you with beautiful, affordable, and fresh flowers for your wedding day. Stop by our store or give us a call today!