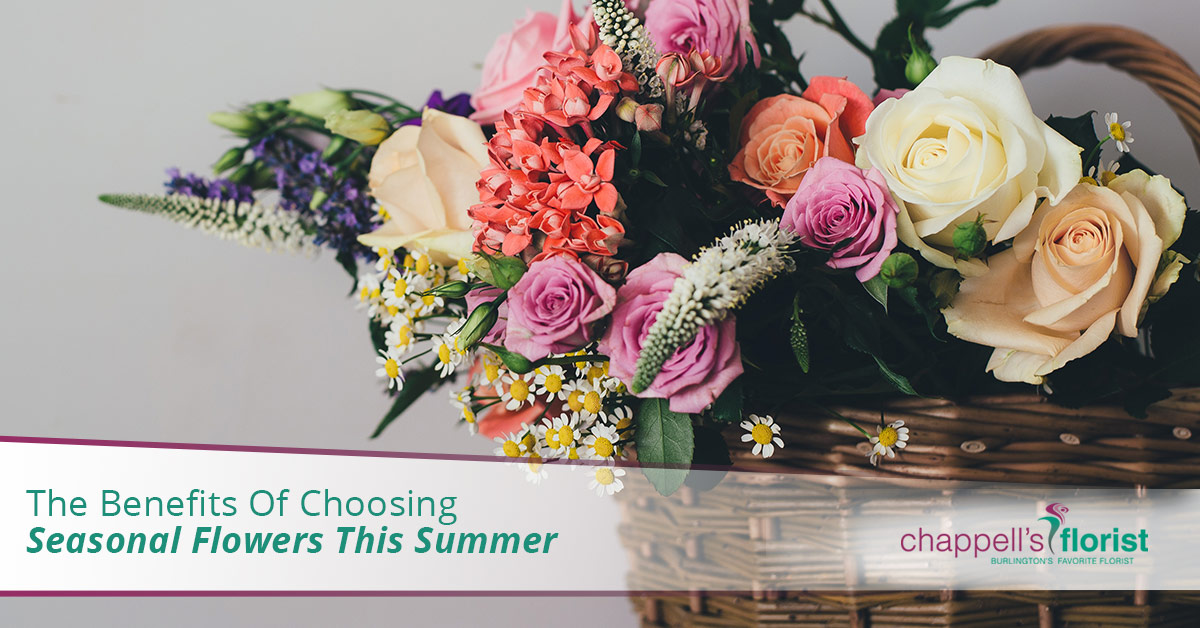 The sunny days of summer tend to make us flock outdoors more often than any other season. Whether you're spending long days on the lake, heading out for a camping trip, or just planning a backyard cookout, summer tends to lure us all outdoors more often. Even when stuck indoors working, it can feel like the sunshine sings a siren song of fun. The other thing you may have noticed is that the foliage outside can feel like it's trying to mirror all that lovely sunshine. A good portion of the summer-blooming flowers come in bright, cheery colors that match the mood outside. This summer, whether you're planning a wedding or bringing in some natural festiveness for a barbecue — or any occasion in between — choose seasonal flowers to capture the spirit of summer.
Bold, Beautiful Blooms
Summer is generally wedding high-season, and for good reason. Most places across the country enjoy fewer rain showers. Combine that with warm weather, and summer is not only a less-risky time to plan an outdoor celebration, it's a great way to enjoy beautiful backdrops for all those wedding photos. Choosing flower arrangements and wedding bouquets made up of seasonal flowers is a great way to bring the beauty of the season into your celebration. Options like sunflowers, spider chrysanthemums, dahlias, and poppies come with bright, bold colors. Or, if you want a slightly more sedate palette, try peony, golden columbine, lavender, and Japanese anemone. Choosing seasonal summer flowers like these is a great way to bring the brightness of the season into any occasion (not just weddings).
Fresh Scents In The Air
Choosing seasonal flower arrangements also means you're more likely to enjoy bolder, brighter scents. Most florists do what they can to source flowers locally as much as possible, but that's not always possible. Choosing seasonal flowers generally means you're getting flowers that were grown nearby. When local blooms are cut and turned into flower arrangements, hardly any time passes between growing and flower delivery. Since seasonal flowers are so fresh, they often have a stronger scent than they would if they had to be shipped in from other regions.
Lasting Beauty
The other big bonus to choosing seasonal flowers is the longevity. Seasonal flowers are often fresher than those that aren't in season, because out-of-season flowers are generally shipped in from another region — occasionally as far away as the other half of the globe. This depends on where your florist gets their flowers, or if they grow the blooms themselves. Generally speaking, though, seasonal flowers tend to last longer because they're fresher when the floral arrangement arrives at your door.
Made For The Weather
The other big part of getting blooms to last longer — and why we suggest choosing seasonal when you can — is because flowers are made for the climate they grow in. A plant that blooms during the winter is going to have vastly different set of tolerances than a flower that naturally grows during the warmer weather of spring or summer. When you choose seasonal floral arrangements, you're choosing flowers made to hold up against the temperatures outside (to an extent). Seasonal blooms are a great way to help ensure your flower arrangements will still look great after a few hours outside. This is particularly important for things like wedding flower or other outdoor celebrations in which the flowers need to be set up ahead of time.
Better Availability
This last benefit is one that will be most beneficial to those of you preparing to host a wedding or other big party. One of the biggest hurdles to non-seasonal flowers is getting sufficient quantity when you need a lot of flowers. Choosing seasonal means you're getting blooms that grow naturally and abundantly when you need them, which makes it much more likely that you can get a hold of the quantities you need without exorbitant expense. Tropical and non-seasonal flowers often come in more limited quantities because they have to be shipped in from elsewhere — which means additional expense and a need to really plan ahead.
Get the full scoop on what's bright, bold, and seasonal with the Chappell's Florist team. Connect with us online or visit our South Burlington florist shop for one-on-one help creating the right flower arrangements for your special occasion.