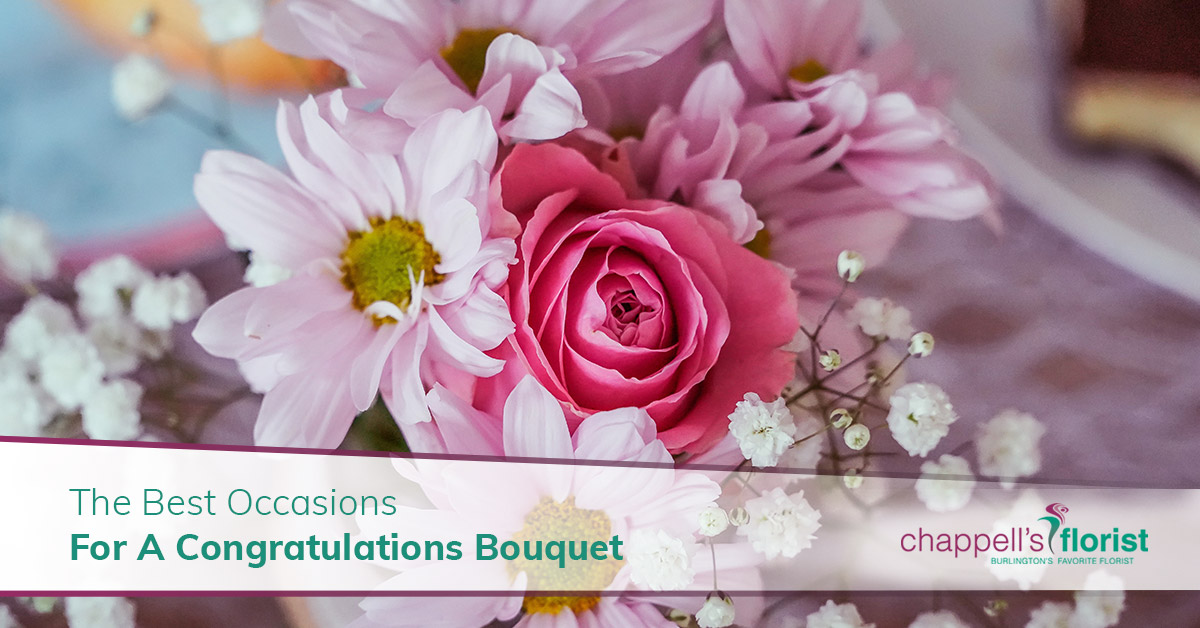 Purchasing a beautiful flower arrangement for someone you care about is a great way to say congratulations! Bright flowers bring joy to anyone's life and serve as a daily reminder that they are cared for by another person. At our flower shop in Burlington, we don't think there is ever a bad time to send flowers, but there are certainly times that warrant a beautiful bouquet.
Browse the vast selection of congratulation flowers we provide at Chappells' Florist and check out the following occasions that are perfect for a congratulatory bouquet.
#1: A Job Promotion
When your loved one is promoted at work, it is cause for celebration. Send a bouquet to their new office to help christen the space and to let them know you are proud of their hard work. Nothing is more enjoyable than finding out someone sent you a beautiful flower arrangement to work.
#2: A Recent Move
Moving across the country or even across town is cause for congratulations. Whether someone is a new homeowner or they just rented the downtown flat of their dreams, sending a bouquet will brighten their new residence. What better way than to say congratulations than with a flower delivery to their new abode.
#3: Graduation
Whether someone is graduating from high school, college, or they just finished their Ph.D., flowers are an excellent way to say congrats! You can visit our flower shop and bring the bouquet to the graduation event or you can have them delivered as a surprise to their party.

#4: A New Baby
When you find out that someone you love is expecting a new family member, it is a great time to send a congratulatory bouquet. A floral arrangement is bright and hopeful, perfectly symbolizing the feeling a new parent has as they await their child's arrival. You can also wait for the baby's birth to send a bouquet to brighten the hospital room.
#5: A Recent Race
Do you have a friend or family member who is athletically inclined? A race day is the perfect occasion for a bouquet. Purchase a beautiful arrangement to have waiting at the finish line or order delivery for the post-race day. No matter what place your loved one finishes in, completing a race is worth a celebration.
Order From Your Local Burlington Flower Shop
There are countless occasions that call for a congratulatory bouquet. Whether your friend just landed the job of their dreams or your spouse let you know a baby is on the way, a flower arrangement is an excellent way to express how excited you are for the person you love.
As your local flower shop in South Burlington, we are here to help you say congratulations for any event. We offer a vast array of beautiful floral arrangements, which means you can find the perfect fit for anyone in your life. Need some help? Feel free to contact us for advice on which flowers will be the best choice. We look forward to helping you celebrate.