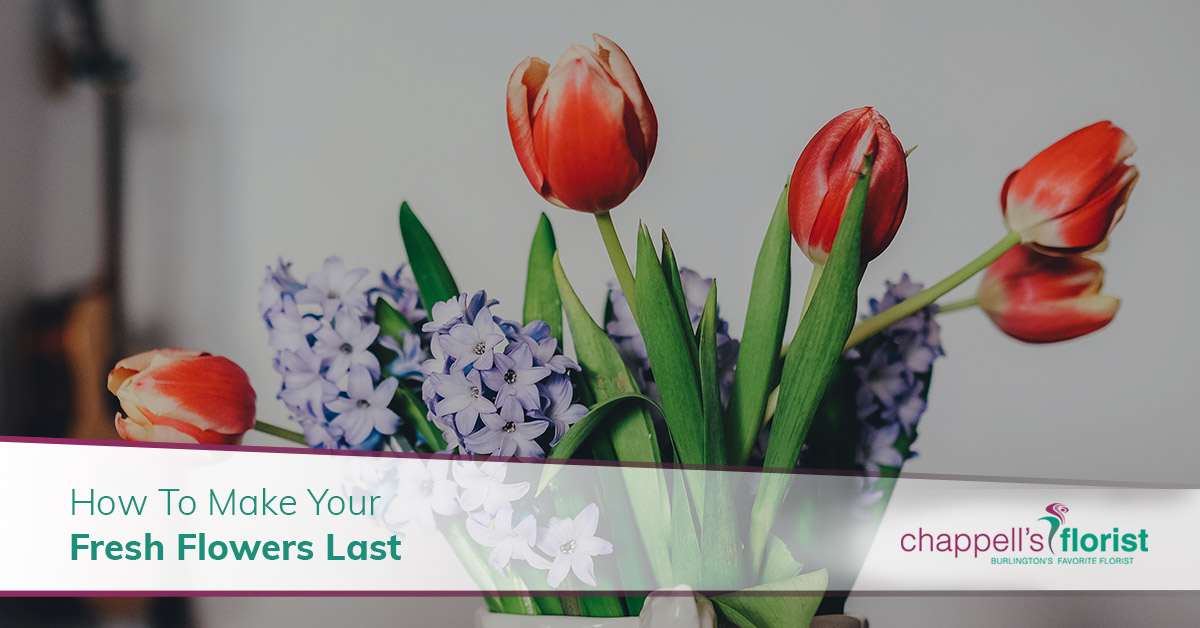 If you were recently gifted with a beautiful arrangement of fresh flowers than you undoubtedly want to keep them looking healthy for as long as possible. As a local florist providing fresh flowers in Colchester and surrounding towns, we are here to help you keep those flowers looking perky and fresh.
Once you receive your bouquet or floral arrangement, you will want to get to work right away. The longer you leave flowers sitting out or laying on the seat of your car, the more difficult it will be to keep them fresh in the long run. Take your flowers home and begin the process as outlined below.
Start With Proper Pruning
The first thing to do when you bring your fresh flowers home is to prune them. Take a pair of gardening shears and begin by cutting off a small amount of the stems. Cut at an angle so that when you place the flowers in a vase, they are not resting directly on the bottom of the glass. This will allow them easier access to the water.
As you trim your flower stems, remove any leaves that are near the bottom of the stems and that would be resting below the water line. This will help prevent them from decomposing in the water, leading to bacterial growth. Once you have pruned your flowers you are ready to move on to the next step.
Always Keep Your Flowers Hydrated
One of the most important factors in keeping flowers fresh is ensuring they are hydrated. Find the vase you will be using and make sure it is clean. Once it is ready to go, fill it with room temperature water.
Each day, check the water levels in your vase. If you notice that your flowers are looking a little low on water, add some more room temperature water to the vase.
Add In Food Or Soda
Water alone won't keep your flowers at their best. Once you have filled your vase with water, add some flower food or a bit of sugary soda — clear sodas, such as Sprite work best. Many florists will provide you with flower food when you receive your bouquet. If so, pour this packet into the water before placing your flowers in the vase.
If you didn't receive flower food or you lost the packets, add some soda or a little bit of sugar. The goal here is to provide your flowers with nutrients to prevent them from drooping too quickly.

Store In Your Fridge Overnight
A lesser-known tactic for keeping flowers fresh it to place them in your refrigerator each night. Have you ever been to your local flower shop and noticed that many of the flowers are chilled? Keeping your flowers in your fridge overnight acts in the same way as a florist's cooler.
Flowers thrive in a cooler environment and these lowered temperatures will help prevent them from dehydration. At the end of every day, simply move your flower arrangement onto a shelf in your fridge. Each morning, you can bring your fresh flowers back out to be enjoyed again.
Keep Away From Direct Sunlight
In the same vein as keeping your flowers chilled overnight, make sure that during the daytime you are not placing your flowers in an extremely hot area. This will cause them to wilt quickly. Avoid direct sunlight or placing your flowers in front of a heater. A cool and shaded area is ideal.
Remove Dead Petals And Leaves
As the days progress, your flowers will invariably begin to lose leaves and petals. Make sure you pay attention as this happens and that you carefully remove the dead portions each day. This will help prevent bacteria from growing in your vase and will leave your bouquet looking fresh.
Pull Out Wilting Flowers
Unfortunately, no fresh flower arrangement will last forever. As you notice flowers wilting, remove these and rearrange the remaining flowers. This can help keep your bouquet looking as healthy as possible for as long as possible.
Purchase Fresh Flowers Today
One of the best ways to keep a floral arrangement looking pretty for a long period of time is to only purchase the freshest of flowers. The last thing you want is to receive a floral arrangement that is already wilting and on its way out. Opt for a reputable, local florist who offers carefully arranged bouquets of the freshest and highest quality flowers.
Here at Chappell's Florist, we provide fresh flowers in Colchester and surrounding communities. Shop our vast selection of beautiful arrangements and find something you love. Whether you are buying a bouquet as a surprise for your wife or you are purchasing some flowers to brighten your home, we will deliver fresh and healthy flowers that, with the proper care, can be enjoyed for days to come.