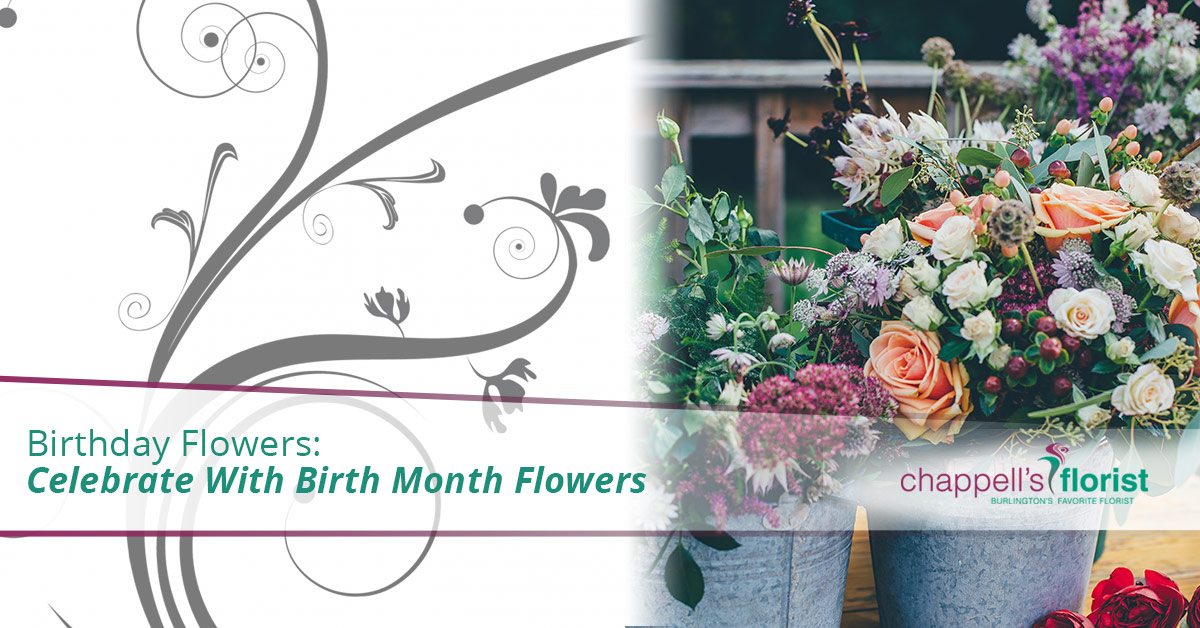 You probably know without thinking just what your birthstone is. Maybe you even have a necklace or a ring to represent the month you entered the world. But do you know what your birth month flower is? That's right, just like with gemstones, there are particular flowers designated to represent each month. Read on and make your loved one's birthday even more special by including their birth month flower!
January
If you're looking to celebrate someone born in January, your go-to flower should be the carnation. There is no single meaning for this flower; each color conveys a different message. White generally means pure love, while pink tells the recipient, "you're unforgettable."
February
The second month of the year is represented by two boldly colored flower options: iris and violet. The purple color of both flowers, once the color associated with royalty, offers a message of faithfulness or loyalty. Plus, some violets are actually edible, so they can be a great option to make this year's birthday cake extra-special.
March
In many parts of the country, Colchester included, March is the month in which we start seeing the first little glimmers of spring. Appropriate, then, that March's birth month flower is the daffodil, an early spring bloomer. Give this flower to spread its message of hope and joy.
April
You don't have to wait until May for April's showers to bring flowers. April's birthday flowers are the daisy and sweet pea, and both are perfect representations of the purity, beauty, and innocence of this time of renewal. Celebrate the pure joy of April babies with these springy flowers.
May
May is often a transitional month, in terms of seasons. Summer may not officially start until late June, but May is often the point at which spring starts stretching into the warmth and fun of the next season. This month's birthday flower is lily of the valley, a flower of happiness and humility.
June
June's birth flower, like January's carnation, is another flower that changes meanings based on the color. Celebrate June birthdays with the rose, but think carefully about the meanings. Red often means passion or romantic love, while white is purity, and yellow is for friendship.
July
Celebrate America's birthday as well as your loved ones born in July by adding larkspur or waterlily to the celebration. Larkspur can represent a happy spirit, while waterlilies offer a message of majesty or a pure and open heart.
August
It's sometimes hard to think about flowers standing up in the heat of this month, but August's birthday flower is one that stands for strength and integrity. Encourage and celebrate this month's babies with gladioli.
September
As the summer's heat fades to fall, most perennials have lost their blooms. How approproate that September's birthday flower is a fall bloomer, the aster. Add some bold color to celebrations this month with a bloom that symbolizes faith, wisdom, and powerful love.
October
No, October's birthday flower isn't the pumpkin. The marigold does celebrate it's month appropriately with autumnal oranges and yellows. They stand for undying love, an appropriate reminder as winter approaches.
November
Celebrate November birthdays with the chrysanthemum, or mum. Opt for fun colors, or choose white for innocence and purity. However, you may want to skip yellow, as those represent a slighted lover.
December
The last month of the year has a few different options for birthday flowers. Holly and poinsettia are both appropriate for their associations with Christmas. If you want to celebrate with something less holiday-related, gift narcissus for faithfulness.
No matter how you celebrate, say it with fresh flowers all year 'round. Visit Chappells Florist in Burlington for fresh flower arrangements for any occasion.