Thanksgiving is a time for gathering with loved ones and expressing gratitude for all that we have. At Chappell's Florist, we have incredible fall floral arrangements and centerpieces to add an extra touch of beauty to this special occasion. In this blog, we will showcase these stunning Thanksgiving floral centerpieces that are sure to impress your guests and enhance the ambiance of your holiday table.
Candlelit Elegance
Combine the beauty of flowers with the soft glow of candlelight for an enchanting Thanksgiving centerpiece. Our Chappell's Double Light Centerpiece and Autumn Thanks Centerpiece are adorned with fresh fall florals and foliage, making the perfect eye-catching decoration for your table.
Captivating Cornucopia
Our Captivating Cornucopia floral centerpiece is an exquisite choice for infusing the spirit of abundance and gratitude into your holiday celebration. Allow the beauty of the cornucopia and the vibrant blooms to symbolize the overflowing abundance in your life, setting the perfect tone for a truly memorable and gratitude-filled Thanksgiving gathering.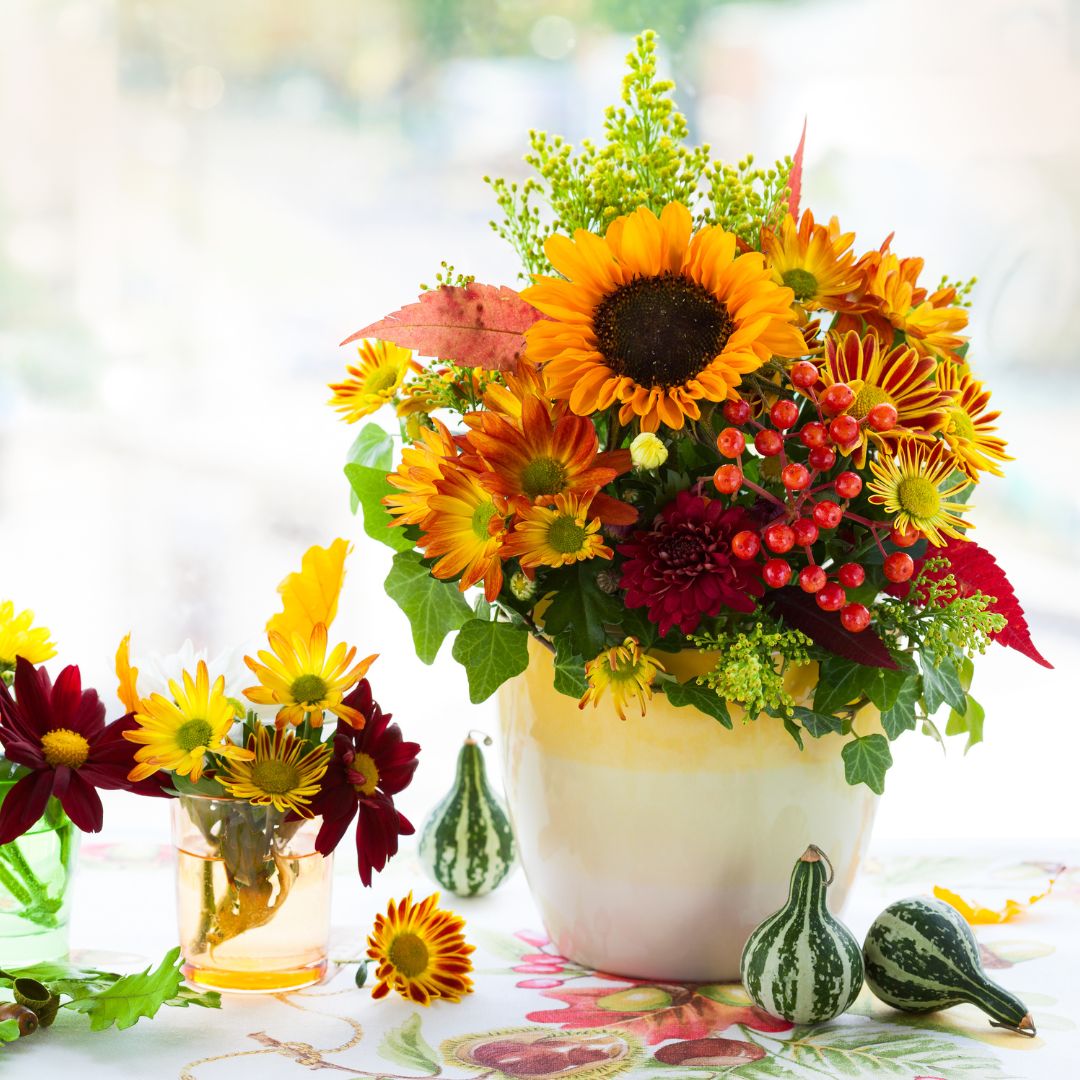 Pair with a Fall Bouquet
Pairing a breathtaking centerpiece with a coordinating bouquet will create a cohesive and visually captivating display. Consider incorporating similar or complementary blooms and colors to tie the centerpiece and bouquet together seamlessly. This coordination will enhance the overall visual impact of your table decor, creating a stunning focal point.
It's All in the Details
When it comes to creating a visually cohesive Thanksgiving table design, paying attention to the details is key. One of the most effective ways to achieve a harmonious look is by tying in the colors of your Thanksgiving flower centerpiece with your table settings and decor. By considering the small details and incorporating them thoughtfully, you can create a cohesive and stunning tablescape that complements and enhances your gorgeous centerpiece.
Chappell's Florist offers a stunning selection of Thanksgiving floral centerpieces and bouquets that are sure to impress your guests and elevate the visual appeal of your holiday table. Whether you're hosting an intimate gathering or a large family affair, these helpful tips for creating a warm and welcoming ambiance will ensure an unforgettable experience for your guests.