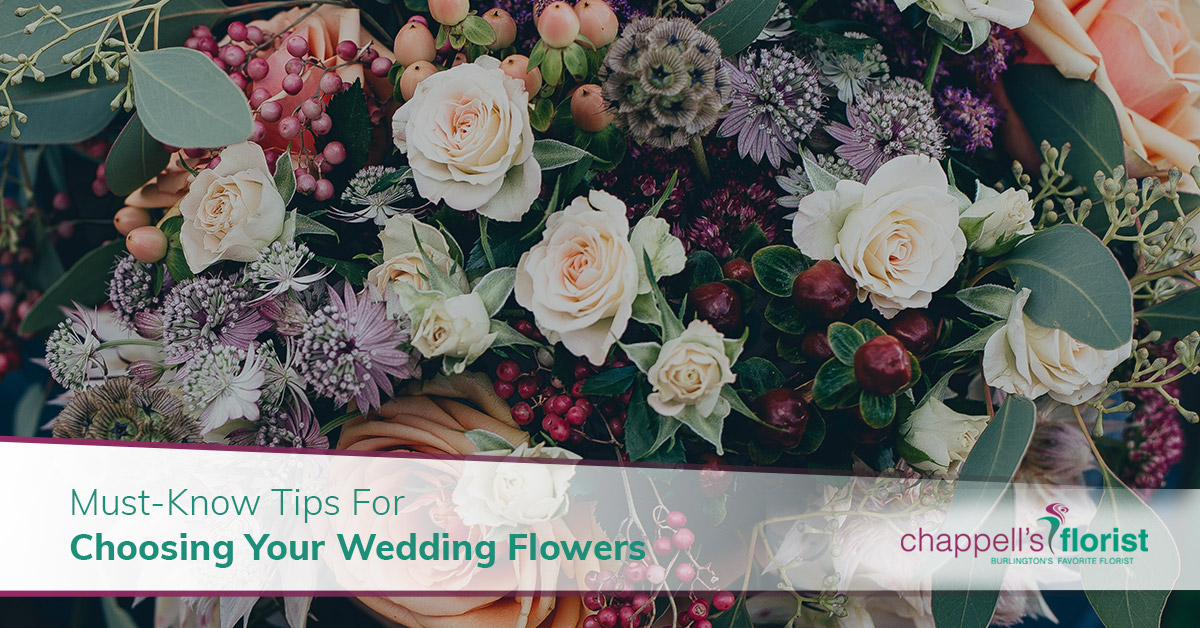 Purchasing wedding flowers is an exciting experience. Your wedding day should be filled with joy and an expression of you and your significant other's love. As a florist in South Burlington, we strive to provide our community with outstanding wedding flower options. We know how important it is for the flowers you choose to reflect your personal style and to contribute to the joy of your big day.
As you go about choosing the right flowers for your wedding, it can be easy to become overwhelmed. After all, there are copious amounts of options available. From bright and cheery sunflowers to classic roses, it can be difficult to narrow down the perfect wedding flowers for your big day. Check out these must-know tips that will help you choose the right flowers for your upcoming union.
Put Together A Budget
The first thing to consider is how much you plan to spend on flowers. There is no right or wrong budget to have, but it is important to put an estimate on your spendings before you begin shopping. Knowing how much you plan to spend prior to looking for your wedding flowers will help prevent you from falling in love with arrangements that are out of your price range.
If you are trying to stick to a smaller budget, think about the most important flowers to you. Your bouquet as the bride should be top of your list. If you want your bridesmaids to hold flowers, add this to the must-have column. From there, you can determine how much money you want to spend on table arrangements and for decorating the venue. Be realistic about how much you can spend and focus on the must-haves first.
Think About Your Wedding Colors
Which flowers are the right fit for your wedding will have a lot to do with what your wedding colors are. You can take one of two tactics. You can choose your flowers first and plan your colors around those flowers or you can pick out the colors for your wedding and then match your flowers to that scheme. Either method is fine, but make sure you are keeping your wedding colors in mind as you shop. For example, if your wedding colors are soft and subtle, you will probably want to avoid bold and bright flowers that might overwhelm the decorations. Instead, you might choose a gentle pink and white bouquet.
Your colors are also important to consider if you plan to have your bridesmaids hold flowers. You don't want the bouquets you pick to clash with the dresses they will be wearing.
Consider Your Wedding Style
Not only do your wedding colors play a role in what flowers you should choose, but the style of your wedding will as well. If you are planning an extremely traditional and formal wedding, you want to pick the right floral arrangements and bouquets to match that mood.
Converesely, if you are hosting a rustic, outdoor wedding, you might opt for bright sunflowers instead of a traditional looking bouquet. Think about the other decorations you will be utilizing at the wedding. Make sure that the flowers you are choosing will pair well with that style.

Incorporate The Season
A wonderful way to make your wedding unique and memorable is to incorporate the season into your flowers and decor. If you are hosting a summer wedding, choose bright flowers and colors that reflect the warmth of this time of year. If you are getting married over the Christmas holiday, think about utilizing elegant red and white bouquets.
While you aren't required to match your flowers to the season of your wedding, it can be a great way to seek out inspiration. If you feel stuck on what flowers will match your big day best, look up what flowers are blooming at that time of year or are traditionally featured in bouquets. This can help give you direction as you shop.
Choose What You Love
Your wedding day is all about you, which means that you can throw tradition or other people's opinions to the side. If you fall in love with tulips and your family thinks that is a crazy flower to have in your wedding bouquet, don't mind them — go with what you want. Your wedding day should be special and your flowers should be a reflection of what you love, not what others tell you is the "right" choice. There are no rules for flowers. You get to choose the arrangements that bring you joy.
Pick A Reputable Florist
Finally, make sure that you choose a local florist in South Burlington that you can trust. You need to be able to count on the florist you choose to provide you with the exact wedding flowers you want on your big day. Nothing is worse than hurrying around on your wedding day trying to find a last minute solution because your florist didn't deliver. Here at Chappell's Florist, we would be honored to be part of your big day. Shop our selection of wedding flowers and reach out with any questions or specific requests.